Overview

Each of our dictionaries for Apple iOS is fully compatible with the iPhone, iPad, and iPod touch devices. They were built with one purpose in mind—to create the most powerful, complete, and easy-to-use Tibetan dictionaries available for Apple devices. Here are some of their features:
SPECIAL FEATURE:

Most dictionaries for iOS use on a phone data connection or wifi connection while the dictionary is running. This can result in considerable costs for the user. However, our dictionaries were engineered so that they run locally and do not require a data or wifi connection. This simplifies the use of the dictionaries, makes them very fast, and potentially results in considerable cost savings.
Search by headword either in Tibetan script or in transliterated English script.
Quickly navigate through a dictionary from top to bottom with an alphabetical reference bar like the one in your iPhone's contact list.
Search all definitions for English, Tibetan, and transliterated text.
Advanced search functions like

AND

, and

OR

are fully supported.
Some of the dictionaries contain extensive hyperlinking, turning them into a truly encyclopaedic reference tool.
Updates to the TibetD Reader software driving the dictionaries is free and provided at regular intervals. The software is professionally programmed and very smooth and stable.
The Illuminator Dictionary is an ongoing work and significant updates are made available at regular intervals. All the other dictionaries are complete and will not have updates.

DEVICES SUPPORTED:

The iOS software has full support for iPhone, iPod Touch, and iPad devices.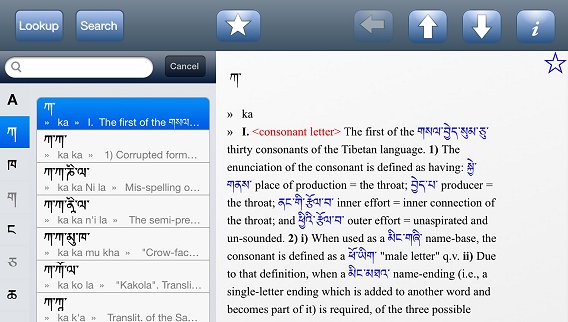 Instructional and Demonstration Videos

• Click here
for instructional videos that will teach you how to set up and use your dictionary; the iPhone is featured in these videos.
The Illuminator Tibetan-English Dictionary

The
Illuminator
is the world's premier Tibetan-English dictionary. It was the first modern and high quality Tibetan-English dictionary to be produced in electronic format. Other Tibetan-English electronic dictionaries are a conglomeration of materials garnered from pre-existing translations, often with many faults. Unlike them, the Illuminator has been created entry by entry by a practitioner-scholar of many years' experience who lives and works in daily contact with Tibetan scholars. For full information on this dictionary and its contents
• go here
.
The Illuminator Dictionary is constantly under development. A new edition of the iOS Illuminator is published each year and each new edition has many improvements and additions. Because the iOS dictionary is sold through the Apple iTunes store, there is no update pricing for updated versions of the dictionary. A new dictionary must be purchased through the iTunes store to obtain the update.
When a new edition of the Illuminator becomes available, the old editions cease to appear in the Apple store. However, those who have purchased earlier editions can still download the edition they have purchased in case of moving to a new device and so on.
Sarat Chandra Das's Tibetan-English Dictionary

Our electronic edition of Sarat Chandra Das's Tibetan-English dictionary is a completely new edition of the dictionary. Unlike other versions of this dictionary that are available, the text has been carefully edited to clean it up and make it suitable for use in electronic form. The editorial work was done according to academic standards.
For full information on this dictionary and its contents
• go here
.
Geshe Chodrak's Tibetan-Tibetan Dictionary


Geshe Chodrak's dictionary is one of very few native Tibetan-Tibetan dictionaries written. It features short but precise definitions and includes obscure terms not found elsewhere, making it extremely useful to students of the language at all levels.
For full information on this dictionary and its contents
• go here
.
Decoding Golden Mirror Tibetan-Tibetan Dictionary

This dictionary containing about 5000 entries specializes in older terms that are often used in dharma texts but hard to find in normal dictionaries. The dictionary is Tibetan-Tibetan so it is not for novices. However, for those doing serious work it is a gem. It gives quotes from various other dictionaries or texts to highlight the meaning of words. Unlike the Tshigdzod Chenmo which usually has very pithy entries that can be hard to get an exact meaning from, this dictionary has much longer entries with very clear illustrations of the meaning.
For full information on this dictionary and its contents,
• go here
.
Completely Revised Tshigdzod Chenmo Tibetan-Tibetan Dictionary


This is a fully revised edition of The Great Tibetan-Chinese Dictionary known in Tibetan as The Tshigdzo Chenmo. The dictionary has just over 55,000 definitions in it, making it the most comprehensive Tibetan-Tibetan dictionary available. In addition, our fully revised Tshigdzo Chenmo is substantially improved over the other versions of this dictionary that are available, all of which contain many errors, mispelled words, and even missing pages.
For full information on this dictionary and its contents
• go here
.
Frequently Asked Questions

With which version of the iOS operating system are the dictionaries compatible? The dictionaries released into the iTunes store in late October / early November 2017 run under iOS 11 and should run under iOS 10. The dictionary software was completely rewritten during 2017 in order to be 100% compliant with iOS 11. The Illuminator Dictionary available from the iTunes store from early November 2017 on is not a free upgrade, because it also contains the latest version (5.50) of the dictionary. However, users who have already purchased any of the other four dictionaries can update those dictionaries to the iOS 11 version for free through the iTunes store. (There have been no changes to those four dictionaries, only to the software that drives them.)
Do you need a data or wifi connection? You need it to download the dictionary after it has been purchased from Apple's App Store. After that you do not need internet access to use the dictionary.
About keyboards and searching and the headword search box. The headword lookup box supports Tibetan written in Tibetan script, Tibetan written in Wylie transliteration, and also supports English. Thus, although we recommend using Apple's Tibetan Unicode Keyboard while using a dictionary, you can also navigate the dictionary simply using an English keyboard.

Searching can be done simply by typing text into the lookup box, but you also can search for a phrase by using quotation marks ( " xxx " ). For instance, you could enter "rdo rje". There is another feature available for text searching: you can use the logical operators OR and AND. Typing AND, in uppercase, between phrases will require that both phrases occur in any entries found and similarly, typing OR between phrases will require that one phrase or the other occurs in any entries found.

In the latest version of the software (November, 2018) searching, for example, for "sutra" will match Sutra, sutra, sūtra, and Sūtra. It will not match "sutras". To include "sutras" in the match list requires a search for "sutra*"sutra, where the asterisk acts like a prefix search.

Note that copy works within definitions and the head word field. Paste works on both headword and full text searching.
The TibetD Reader software that comes with all of the above dictionaries is bug-free. However, it is possible to do an installation, at least on an iPod, which seems to be complete but is only partial. In that case, various flaws in the program can appear. Here is an example of what to do to fix a partial installation.
Remove the dictionary from the iPod. To do this, press the icon until all the icons start shaking and have x in the upper left corner.
Next, tap the x on the dictionary. This will give you a message warning you that deleting the dictionary will also delete all of its data.
Press "Delete".
Press the home button on the device.
Go to the Apple iTunes store and reinstall the dictionary. You will need your original user name and password. Apple does not charge to reinstall applications that you have already purchased.
On first use, you should get a picture of a butter lamp with an activity indicator (white wheel spinning). Please let it finish.
Your iPod must have iOS 5.1 or greater (6.0+).
Will the iOS dictionary work on your iOS device and on your Macintosh running OSX? The answer is no. We wanted this to be the case but Apple's approach does not allow it.
About full text search: there are two separate search bar fields. The first one, at the top of the main screen looks up headwords that appear in the dictionary and that is all. To search the dictionary contents (that is, search inside definitions), you need to enter search text anew because the program does not carry over any text that you previously entered in the main search bar field. For instance if you want to find every entry that has "sutra", click on the search button, then type "sutra" in the empty search bar. You will get many results; the rnumber found is in very small type at the top.