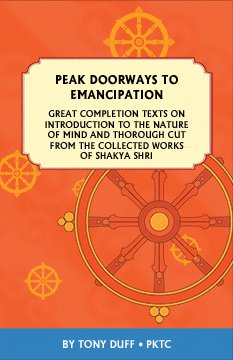 Peak Doorways to Emancipation, Great Completion Texts on the Introduction to the Nature of Mind and Thorough Cut from the Collected Works of Shakya Shri
Texts by Shakya Shri, book by Tony Duff
| | |
| --- | --- |
| Title | Peak Doorways to Emancipation |
| Sub-title | Great Completion Texts on the Introduction to the Nature of Mind and Thorough Cut from the Collected Works of Shakya Shri |
| Author | Translations, extensive introduction, and commentarial notes by Tony Duff |
| Details | 104 pages, 1 colour plate, 5.5" X 8.5", US$20, available on paper and in PDF e-book format |
| ISBN | paper book 978-9937-903-19-6, e-book 978-9937-572-50-7 |
| Texts | Tibetan texts in Tibetan script included |
| | New, highly expanded second edition. Published March, 2010 |
Shakya Shri was one of the greatest masters of the Drukpa Kagyu around the end of the nineteenth century. He was renowned for having practised and accomplished both the Mahamudra traditions of the Drukpa Kagyu and the Great Completion (Dzogpa Chenpo) tradition that had come to him through his root guru, Khamtrul Rinpoche. He taught students either Mahamudra or Great Completion or a mixture of both, whatever was suitable for them.
This book presents two texts from his
Collected Works
. Each one presents a specific aspect of innermost Dzogchen practice though the first text, on the introduction to the nature of mind, is fully applicable to essence Mahamudra, too. We chose the two texts because they highlight specific aspects of these practices that are not explained in any other texts available from us. As with several other texts on Thorough Cut, each text offers instruction on a key aspect of the teaching.
The first text is specifically on the topic of introduction to the nature of mind (sometimes called pointing out instruction). It is hard to find a text which, like this one does, specifically discusses this key technique of the higher tantras. The text will be of interest to anyone who is practising Mahamudra or Dzogpa Chenpo.
The second text continues by giving instruction on how to realize the nature of mind after it has been introduced to the disciple. This text specifically explains the practices of the Thorough Cut (Tregcho) of Great Completion. This text also includes specific instructions on the special preliminary practice of innermost Great Completion called Parting into Sides (Tibetan, rushen).
Both texts are very explicit and will be of real interest to anyone engaged in Mahamudra or Great Completion. The texts are Drukpa Kagyu so they will be of special interest to Drukpa Kagyu followers. The book includes a very complete introduction and extensive notes to help understand the texts.
The book contains translations of the following texts:
| | |
| --- | --- |
| | ""Opening the Door to Emancipation", A Very Abbreviated Uncommon Guide to Mind" |
| | "Thorough Cut's Secret Path, The Second Core Piece, Instruction on Nakedly Seeing Rigpa" |
Download Tibetan texts in TibetD format: • available here
.
Purchase: