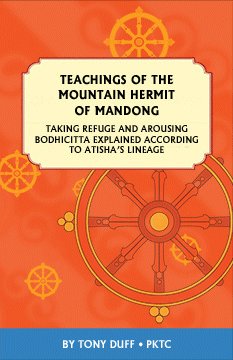 Teachings of the Mountain Hermit of Mandong
Taking Refuge and Arousing Bodhichitta Explained According to Atisha's Lineage, book by Tony Duff
| | |
| --- | --- |
| Title | Teachings of the Mountain Hermit of Mandong |
| Sub-title | Taking Refuge and Arousing Bodhichitta Explained According to Atisha's Lineage |
| Author | Translations and introduction by Tony Duff |
| Details | 148 pages, 5.5" X 8.5", US$20, available on paper and in PDF and Kindle e-book formats |
| ISBN | paper book 978-9937-903-18-9, e-book 978-9937-572-48-4 |
| Texts | Tibetan texts in Tibetan script not included |
This book contains two teachings, one on taking refuge in the Three Jewels and one on the development of bodhichitta or enlightenment mind. The teachings are translations of two texts from the
Collected Works of the Hermit of Mandong
. The hermit was a Kagyu master who lived in caves in the Mandong area of Tibet during the latter half of the 20th century, after the Communist Chinese invasion. He is not known to most Westerners but is quite famous amongst Tibetans these days. Why? Well, he was very learned and highly accomplished, but, over and above that, he was famous for his love and compassion for the very impoverished people of his area. In the darkness following the Chinese destruction of Tibet, he went out of his way to ensure that the poor and downtrodden people of his area not only received Buddhist teachings but received teachings from the heart that they really could understand and practice. The two teachings in this book are texts written specifically to assist those people and are very potent because of it. The compassion of the Hermit of Mandong comes through very clearly.
The Hermit was a follower of the Kagyu lineage, a lineage that gained the complete Kadampa teachings on refuge and bodhicitta as taught by Atisha through the early Kagyu master Gampopa. The two teachings here come from that tradition. Because of the Hermit's ways explained above, the teachings are not dry expositions at all, but are very heartfelt and wonderful to read. Moreover, they contain many stories and quotes from the early Kadampa masters and from Kagyu masters such as Milarepa, Karmapa, and so on. What is really fascinating about both teachings is that they were given for a thoroughly traditional audience, so they talk about hell realms and so on in a traditional way. However, the teachings are intensely personal and practical, so they go from what could be teachings that many Westerners would not find relevant to being thought-provoking teachings on love and compassion. This feature on top of all the other features of the teachings makes this a very interesting book.
Books like this tend to be overlooked these days because these days people are forgetting about refuge and bodhicitta and seeking only the hot topic of Dzogchen. Refuge and bodhicitta are indispensable for all according to the Buddha, and this little book brings those two teachings right to the fore in a very compelling way.
The book contains translations of the following texts:
| | |
| --- | --- |
| | From the Stages of the Path to Enlightenment: A small instruction on Taking Refuge called "The Great Entrance to the Excellent House of the Conqueror's Precious Teaching" |
| | From the Stages of the Path to Enlightenment: For Beginners in the Great Vehicle, The Method of Meditating on Compassion that References Sentient Beings called "An Ornament for the Minds of Young Conquerors&lsquo Sons" |
Download Tibetan text in TibetD format: not available.
However, we would recommend the electronic edition of Tsongkhapa's
Great Stages of the Path to Enlightenment
, which you can get from our

• free Tibetan texts page
, as a complete source of teachings on refuge and bodhichitta that follows Atisha's style of explanation.
Purchase: