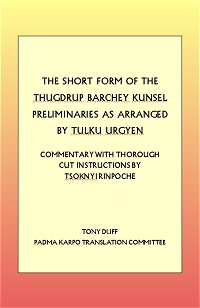 Commentary on the Barchay Kunsel Condensed Preliminaries of the Chogling Tersar
Teachings by Tsoknyi Rinpoche, translation and book by Tony Duff
| | |
| --- | --- |
| Title | Commentary on the Barchay Kunsel Condensed Preliminaries of the Chogling Tersar |
| Sub-title | Teachings by Tsoknyi Rinpoche |
| Author | Translated and compiled by Tony Duff |
| Details | 44 pages, 5.5" X 8.5", US$15, available in PDF e-book format |
| ISBN | 978-9937-2-0224-4 |
| Texts | Tibetan texts in Tibetan script not included |
The Chogling Tersar (New Treasures of Choggyur Lingpa) contains a number of anthologies that come from the treasures revealed by Choggyur Lingpa and which contain everything needed for a complete practice from beginning to end of the Vajra Vehicle. The one most practised these days is the one popularly called "Barchay Kunsel" in Tibetan,
Total Dispeller of Obstacles
. It has become very popular because the late Tulku Ugyen taught it extensively.
The Barchay Kunsel is a particularly large anthology and has several texts for doing the preliminary practices: long, middling, and short length forms. The late Tulku Ugyen, father of the current Tsikay Chogling Rinpoche was asked by his Western students to make an exceptionally short version of the already short version so that they could manage to do it in their busy Western lives. Tulku Ugyen accomodated their requests by writing a super-condensed version of the short length text. There was no official commentary on this super-condensed version until one day some students of Tsoknyi Rinpoche came and asked for an explanation of how to do it. At that time, Tsoknyi Rinpoche asked Tony to translate his explanation and additionally to produce a handbook for people wanting to practice it. Tsoknyi Rinpoche mentioned that his commentary was applicable to all versions of the Barchey Kunsel preliminaries, regardless of length.
The book starts with Tsoknyi Rinpoche's commentary. After that, there is a short introduction to the main practice to be done after the preliminaries are complete, the Great Completion (Tib. Dzogpa Chenpo) practice of the Thorough Cut (Tregcho). The short introduction is a teaching given by Tsoknyi Rinpoche to some of his students at around the same time.
Purchase: