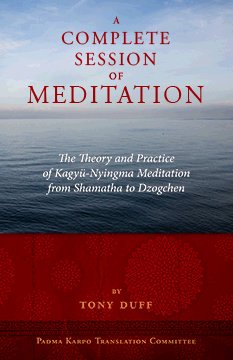 A Complete Session of Meditation (English)
Complete instructions on Kagyu-Nyingma meditation from sugata essence to Mahamudra and Dzogchen by Lama Tony Duff
| | |
| --- | --- |
| Title | A Complete Session of Meditation |
| Sub-title | The Theory and Practice of Kagyu-Nyingma Meditation from Shamatha to Dzogchen |
| Author | Tony Duff |
| Details | 198 pages, 5.5" X 8.5", US$25, available on paper and in PDF e-book formats |
| ISBN | paper book 978-9937-572-71-2, e-book 978-9937-572-72-9 |
| Language | English and Hungarian books available; for the Hungarian version • go here |
This is a book of teachings on how to do a complete session of meditation. The book was composed by the Western teacher, Lama Tony Duff, to help those who would like to practise meditation in general. However, it will be especially useful for those who would like to practise according to the ways of the Kagyu and Nyingma traditions of Tibetan Buddhism. The book emphasizes the practical style of instruction found in those two traditions. It deliberately avoids the scholarly style taught in some other Tibetan Buddhist traditions and focusses on actually doing something with one's own mind. Nonetheless, the book is very precise and clear about all of the key points involved in meditation practice.
The book emphasizes the Kagyu approach in particular. The author has received teachings from many Kagyu masters and used his knowledge of the tradition as a basis for making this book. He selected teachings from Gampopa and other early masters to set the basis for explaining meditation. Then he added other, necessary teachings according to the extensive teachings he has received over many years from many different Kagyu masters, such as Chogyam Trungpa Rinpoche, Mingyur Rinpoche, and others. The result is a book that explains how to do a complete session of meditation in the style of the Kagyu and Nyingma traditions.
The book begins with a lengthy introduction by Lama Tony which is a teaching in its own right. He writes a lengthy piece about what can and cannot usefully be obtained from science in terms of dharma practice. Following the introduction, there are two chapters on the buddha nature, the second of which uses a significant portion of Dolpopa Sherab Gyaltsen's explanation of the ground in his famous
Mountain Dharma
text. This is the first time that this part of Dolpopa's text has been fully translated and published. After that are several chapters on the various steps of a complete session of meditation. Anyone who practises meditation will find this book useful in many ways.
The book contains a translation of the following text:
| | |
| --- | --- |
| | "Mountain Dharma, An Ocean of Definitive Meaning" by Dolpopa Sherab Gyaltsan, ground section |
Download Tibetan text in TibetD format: no Tibetan text in this book.
Purchase:
A teljes meditációs (Magyar, Hungarian)
Lama Tony Duff, Magyar fordítás Agócs Tamás
| | |
| --- | --- |
| Title | A teljes meditációs ülés |
| Sub-Title | A Kagyü-nyingma meditáció elmélete és gyakorlata a samathától a dzogcsenig |
| Author | Tony Duff, Magyar fordítás Agócs Tamás |
| Details | 198 oldal, 5.5" X 8.5", 5000 Forint |
| ISBN | papírkönyv 978-9937-572-75-0, e-könyv 978-9937-572-76-7 |
| Language | Magyar; for the English version • go here |
E könyv tanításai arról szólnak, hogyan kell lefolytatni egy teljes meditációs ülést. A könyvet egy nyugati tanító, Lama Tony Duff állította össze azoknak segítségül, akik meditációt szeretnének gyakorolni általában. Azoknak pedig, akik a tibeti buddhizmus kagyü és nyingma iskolái szerint kívánnak gyakorolni, különösen hasznos lehet. E könyv az említett két hagyományban megtalálható, praktikus stílust helyezi előtérbe. Szándékosan kerüli az egyes más tibeti buddhista hagyományokban alkalmazott tudományos hangvételt, és arra a kérdésre összpontosít, mit tehet az ember konkrétan a tudatával. Ennek ellenére igen pontosan és világosan írja le a bemutatott meditációs gyakorlatok kulcspontjait.
A könyv különösen a kagyü megközelítést emeli ki. A szerző a hagyományról szóló, széleskörű elméleti és gyakorlati tudására támaszkodott e könyv megalkotásakor. Gampópától és más korai mesterektől választott ki néhány tanítást, hogy megvesse a meditációr ól szóló magyarázatok alapjait. Az egyéb szükséges tanításokat azon terjedelmes tanítások közül válogatta össze, melyeket több különböző kagyü mestertől – többek között Cshögyam Trungpa és Mingyur Rinpócséktől – kapott az évek során. Az eredmény egy olyan könyv lett, amely igen világosan elmagyarázza, hogyan kell lefolytatni egy teljes meditációs ülést a kagyü és nyingma hagyományokban.
A könyv Lama Tony hosszú bevezetőjével kezdődik, mely maga önálló tanítás. Hosszasan értekezik arról, hogy a tudomány mennyiben lehet hasznunkra, és mennyiben nem, a Dharma gyakorlásában. A bevezetőt két fejezet követi a buddha-természetről; a második Dolpópa Serab Gyalcen híres szövege, a Hegyi Dharma, talajról szóló magyarázatainak tekintélyes részét használja fel. Dolpópa e szövegrészletének ez az első teljes, megjelent fordítása. Az ezt követő fejezetek a teljes meditációs ülés különböző lépéseit taglalják. A könyvet mindenki haszonnal forgathatja, aki meditációs gyakorlatokat szokott végezni.
A könyv a következő szöveg fordítását is tartalmazza:
| | |
| --- | --- |
| | Dolpópa Serab Gyalcen: "Hegyi Dharma, A bizonyos jelentés óceánja". talaj szakasz |
Purchase: